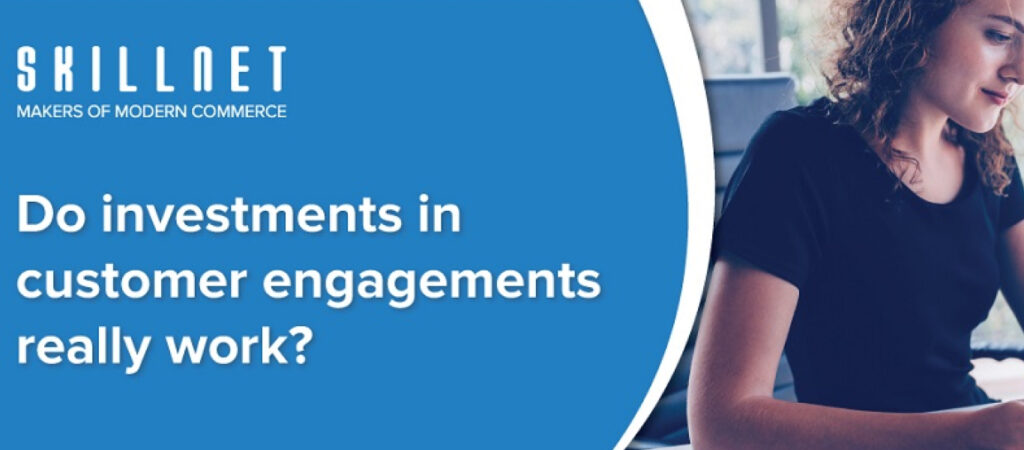 This is the second blog in a series of 4-blogs (Read Blog 1, Blog 3, Blog 4) from SkillNet on how Modern Commerce Leaders have used technology to digitally transform their retail businesses to adapt to the New Normal. This ability to adapt, gives these brands a competitive advantage. While the blogs are connected each of them can be read independently.
During this time of uncertainty, Modern Commerce Leaders have been investing in improved retail customer experiences to help them build customer loyalty and to weather a drop in traffic.
A recent McKinsey study showed that in last major downturn (2008 economic crisis) the top publicly traded customer-focused companies had three times greater shareholder return than customer experience laggards.
Customer experience (CX) leaders are more resilient during recessionary periods, experiencing shallower troughs and quicker recovery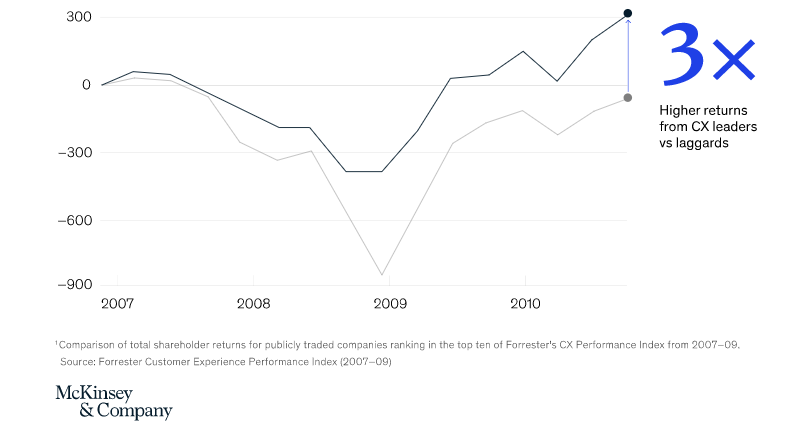 Even before the pandemic and resulting economic downturn, Modern Commerce Leaders had already begun investing in retail customer strategy and customer-focused innovation, but the pandemic increased the impetus to find new ways to engage with a newly home-bound customer. More importantly, it also has resulted in massive changes to behavior, with customers being more willing to try new technologies thus reducing the challenges that retailers may have faced prior to COVID-19. As reported in CNET, Oz Alon, co-founder and CEO of HoneyBook, a financial tech startup in San Francisco said, "I do believe this is an opportunity. This is a huge event in the world, people are going to change their behaviors and a lot of things that have struggled for adoption will get a new push."
Much of the customer experience improvement has come with enhancements to existing mobile applications. Scott Steever, Adjunct Professor at Fashion Institute of Technology, on a recent SkillNet Webinar shared his own experience developing Mobile Applications for ABC Carpet and Home in New York City:
"Before the Pandemic, ABC Carpet and Home saw some customers wanting an option to be able to schedule an appointment and potentially initiate a video chat, online or through an app, with associates. Buying a $15,000 sofa or a $50,000 carpet is a major purchasing decision and anything we could do to facilitate the decision making process was seen as a win for the customer, sales associate and our bottom line. The Pandemic just pushed the adoption of this technology." Professor Steever also added, "I think tools like this that are flexible and adaptable are very important in this age of COVID 19 because we don't know when or where the next hot spot will come up. The good news is that we know this long-term investment and current adoption will give ABC a competitive advantage."
Recent earnings reports seem to support this correlation between an enhanced customer experience and better financial/operational performance as shown by three customer engagement leaders:
Target: enhanced mobile apps, fulfillment and loyalty program

Q3 2020 saw digital sales grow over $2B and drive-up service grow over 500% in Q3
20% increase in same store sales with 3% decrease in starting inventory for Q3 2020
75% of digital orders were fulfilled by stores in Q3 2020

Walmart: enhanced mobile apps, fulfillment and new subscription program

Curbside projected to drive over $7B in sales and account for 33% of digital sales in 2020
Average basket size for curbside pickup were double that of in-store baskets
Q3 2020 saw the number of transactions drop by 14%, but average ticket increased by 24% and eCommerce was up 79%

Kroger: enhanced mobile apps and fulfillment

Q3 2020 saw 108% digital sales growth and 10.9% comparable store growth
Expanded to 2,213 pickup locations and 2,468 delivery locations, covering over 98% of Kroger households
Estimates that 50% of online revenue is coming from competitor's customers
In conclusion, investments in customer engagements definitely pay off for retailers and, in today's world, pay off quickly. The good news is that it is never too late to start. Given the speed with which technology changes can be implemented to support both digital and in-store experiences today that help improves retail customer experience, retailers will quickly see the benefits of innovation in improved financial and operational performance.
Watch the Webinar on customer engagement – Real Engagement is the new normal